The ducal chapel
Since the end of 1590 at the head of the Cupboard Chamber, the present-day Council Hall, works were undertaken to build a new chapel.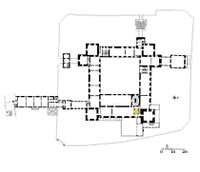 The project and supervision of the works were entrusted to the architect Alessandro Balbi, formerly in charge of the reconstruction of the Castle in occasion of the earthquake of 1570.
Leafing through the archival sources one may presume that the chapel was completed within a sole year, between december 1590 and december 1591, at the order of Alfonso II, the last duke of Ferrara, son of Renée of France and Ercole II d'Este.
Until recently the room was believed to have been the "Chapel of Renée of France" and was ascribed to the princess' patronage owing to the absence of sacred images.
This constituted a distinctive feature of Calvinism, the religious faith embraced by Ercole II's spouse, who was to be eventually "exiled" from the court for this reason. On the walls, coated all over with precious polychrome marbles, no sacred image - either painted or in mosaic - is actually represented, as one would at least expect in the small nisches.
The vault, conversely, is decorated with frescoes portraying the four evangelists against a light blue background, surrounded by cherubs, each of them respectively recognizable by the lion (Saint Mark), the eagle (Saint John), the angel (Saint Matthew) and the bull (Saint Luke) in accordance with the iconographic tradition.
The alternative hypothesis of a non-Catholic chapel has been confirmed once the attribution of the sacred figures has been assigned to the XIX century painter Giuseppe Tamarozzi (Ferrara, 1796-1855).
Only subsequent documentary findings have disclosed that he had been asked to "restore" an existing fresco by painting the above mentioned images all over it, as was customary at that period. Recent restoration works have subsequently brought to light, underneath Tamarozzi's dense brushstrokes and inevitable dusty layers, the original frescoes that archival sources relate to the court painter Giulio Marescotti, documented since 1572.

Giovan Battista Rosselli was the artist responsible for the gilded ornamentations, whereas the name of Giulio Marescotti, active at the Este Court since 1572, is recorded in various documented payments regarding the execution of works in the Ducal Chapel since the spring of 1588.
On the ceiling of the deeply in-set niche hanged a chandelier. The trials carried out in the small room that introduces into the chapel, has allowed discovery of three superimposed layers belonging to different decorations: some presented geometrical motifs, others symbols, such as the "granata svampante" (exploding shell), one of Alfonso I's devices, located inside the niche of the window overlooking the Garden of the Oranges.