Conference and reception halls
THE ESTE CASTLE OF FERRARA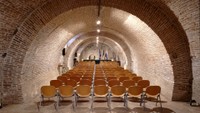 An exclusive setting for meetings, concerts, ceremonies, conferences and all events ... with class.
The monument that is the symbol of the city of Ferrara, the Castello Estense still conserves unmistakable features of its past as a fortress and the residence of the Dukes of Este: towers, gatehouses and drawbridges blend with smart little balconies and marble terraces.
Extensive restoration works have recently brought to light structures dating back to the days of the mighty fortress and have brought back into use large rooms situated below the level of the courtyard.
These rooms are large and full of atmosphere with their barrelled ceilings and terracotta floors which originate from their former function as store rooms and access routes to other places, such as the landing stage (which is why it is called "imbarcaderi" meaning landing stages) from which it was possible to leave the castle on board small boats or golden bucentaurs.
The four rooms, all of which are linked by means of broad passageways, make up a multipurpose space and can be used singularly or together and adapted, as needs require, for meetings, dinners, buffets, exhibitions and conferences.
Each room has its own characteristics: Imbarcaderi 1 and 3 are usually used for private events such as weddings, receptions, gala lunches and dinners, coffee meetings or having an aperitif.
Imbarcadero 2 is permanently equipped as a conference room with up-to-date furniture that consists of 130 chairs for the audience, audio amplification system with two stand microphones, conference presenters' table with chairs with arm supports, screen for film projections, bookrest and reception desk.
Lastly, Imbarcadero 4 is normally used for service operations, for example catering. Each room can hold up to 150 people, which can be increased to 300 if two or more rooms are used at the same time.
The Courtyard of Honour, used for public events (concerts and theatrical shows) or on official occasions, also an international level, can hold up to 500 people. The organisation and coordination of the activities take place in the Imbarcadero Rooms and the Courtyard is managed on behalf of the Provincia di Ferrara by a firm called Itinerando.
Itinerando is available to satisfy any request regarding auxiliary services (catering, flowers, plants, photographic services etc.) and additional equipment (audio-video system) on occasion of events and ceremonies within the Castello Estense.
Information and booking:
Biglietteria Castello Estense
Tel. +39 0532 419180
E-mail:castelloestense@comune.fe.it