The small chamber of Games
The Saletta dei Giochi, a connecting room located between the Chamber of Dawn and the Hall of Games, is quoted in XVI century sources as the "chamber adjacent to the chamber of the mirror".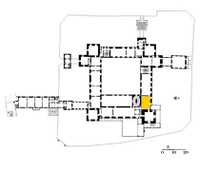 Two components are interlaced in the decorations: the playful component that refers to the light-hearted nature of courtier culture, and the cultural component that on the one side ties in with the fundamental theme of Time, in continuity with the Dawn Room, and on the other side the journey of human knowledge promoted by Duke Alfonso II, not satisfied with promoting just the athletic ideal present in the other representations.
The leading personality identified in the execution of the frescoes, as confirmed by documented payments, is Ludovico Settevecchi (Modena 1520?-Ferrara 1590) coadiuvated by Bastianino (Ferrara 1532 ca.-1602). The decorative display is the work of Leonardo da Brescia (doc. 1556-1598) just as in the other rooms composing the Mirror Apartment.