The governo ante-room
In the 16th century, this small room of immense artistic quality was outside the "Sala del Governo" and acted as a sort of waiting room for entrance to "His Excellency's Chambers".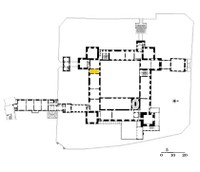 Apart from documentary evidence that confirms this layout, there are also similar, contemporary decorations in the "Sala del Governo" that feature valuable grotesques around the window frames and in a small arch in the ceiling.
The illustrations seen at present were somewhat altered during restoration works in the early 1900's.
The decorations were carried out in 1556 by Girolamo Bonaccioli who had previously painted the ceiling in the "Sala del Governo" and by Battista Bolognese.
There is a receipt dated December 1566 showing that Filippo de Vecchi was paid for probable finishing-off or restoration work he had carried out on "the room that acts as the anteroom to the sala della stufa (the stove room)".