The Governo room
This room held great symbolic importance for the duke Ercole II (1534-1559) and it was in fact from here that he ruled and held court.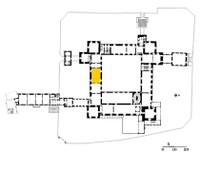 The room is characterised by a splendid wooden ceiling with panels in various oval, octagonal, hexagonal and rhomboid shapes.
The room is further embellished by bright, multi-coloured paintings, gilt, wooden, turned latticework in the form of rose buds and rosettes engraved in the centre of the caissons.
The ceiling that is very similar in design and size to that of the "Salone d'onore di Palazzo dei Diamanti" was constructed between the fire of 1554 and the earthquake of 1570 and was the handwork of differing master craftsmen.
The iconography refers to various literary sources. These include the "Genealogie" by Boccaccio with references also made to the works of Natale Conti, Lilio Gregorio Giraldi whose subjects come under the headings, history, traditions and divine myths and to Imagini de li dei de li Antichi by Vincenzo Cartari, dedicated to Luigi d'Este in 1571.
Works began in 1559 on one of the great rooms on the south side with the construction of a large stove covered with decorated pottery and a large, white eagle that was the family symbol.
The room was named the "Camera della Stufa".