The hall of games
The Salone dei Giochi (the hall of games) was the hall of honour of the "Mirror Apartment". The room is reported in coeval sources as the "Chamber adjacent to the Chamber of the Mirror", namely the most spacious room next to the current Chamber of Dawn, but separated from it by the Small Chamber of Games.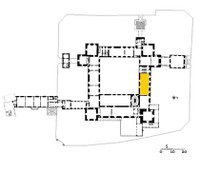 While Alfonso II, who succeded his father Ercole in 1559, was promoting the Castle conversion from fortress to residential palace, a frightening earthquake (1570) forced him to undertake new restoration and recontruction works, among which the replacing of the brick structure sustaining the loft in the three halls of honour with a lighter and more flexible wooden support. The decoration should date after 1570, the pictorial surface having not been damaged.
The authors of the frescoes - whose authorship of the ceiling decoration is now almost hunanimously unquestioned - were Sebastiano Filippi called Bastianino Ferrara 1532 ca.-1602), Ludovico Settevecchi (Modena 1520?-Ferrara 1590) and Leonardo da Brescia (active since 1556 and dead in 1598), with the exception of the scene depicting The Throwing of the Discus, which challenges a definite interpretation owing to a subsequent intervention, was assigned to a lesser personality.