The Devolution room
This room, that is characterised by a ceiling painted with grotesques illustrating four historic scenes, is also known as the "Sala Rossa".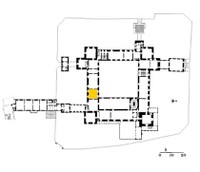 This is to underline the presence of a Greek frieze fitted above a wainscot that creates a sense of continuity with the ceiling.
The room is to be found in the wing that was renovated in the early 1500s by Alfonso I d'Este for his wife, Lucrezia Borgia. It was also here that, towards the end of the century, Alfonso II arranged some of his offices, in particular, rooms for holding hearings.
The decorations were carried out along with other restoration works on the Castle around 1830 with the aim of renewing some of the dignity due such a building.
The papal legates, who ordered the works, chose a strong anti-Este family theme showing four illustrations related to devolution during that fateful 1598 when the last Este duke had to leave the city.
The narrative scenes were painted by Francesco Saraceni (1797-1871) who often worked alongside Francesco Migliari (1795-1851), one of the best of the Ferrarese school of the 1800s.
Many of his works decorate the Castle and other important buildings including the Teatro Comunale and numerous churches.