Bookshop
Welcome to the Castle's Bookshop!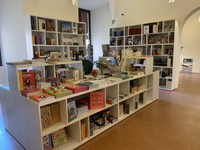 Here, you will find many interesting books and many gifts, collector's items, accessories and prints about Ferrara, its history, its museums and traditions, and its leader family: the Estes.
A wide selection of items is dedicated to the Castle itself, its history and architecture, and the legends linked to this special place.