The garden and loggia of the oranges
Throughout the Renaissance Ferrara was renown for its gardens, designed to reflect a heavenly archetype revised according to contemporary courtly ideals drawn by chivalric principles.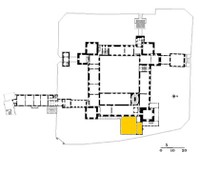 Woods, grottoes, hills, geometrical patterns in gardens, perfumed flower-beds, spectacular water effects, all added to the transfiguration of landscape by means of the extensive use of every possible asset provided by artistic and technical novelties.
The garden, intended as the symbol of peaceful nature, a place where a supernatural command over natural elements is achieved, is allusive to the Este's ideals of government, uninterruptedly in pursuit of the enlargement of their territories.
By means of the garden metaphor, the image of the court is definitely exhibited out of the palaces along with the magnificentia the lords wished to convey. Visitors approaching to Ferrara by fluvial transport first landed on the Belvedere Island, an astonishing collection of beautiful architectures.
Particularly suggestive was also the entrance to the city set in correspondence of the Gate of the Angels, which provided an aerial frame for the Castle raising above the Pavilion Gardens.
The city walls too, appearing from the outside as a formidable defensive structure, enclosed idyllic places disseminated with orange trees and neatly arranged flowers and ponds.
A downright landscape "sculpting" process had totally transfigured nature's appearance: the Castle was at its centre along with its sequence of loggias and secret gardens culminating with the hanging Garden of the Oranges.
It was under Alfonso I that the Garden of the Oranges was given its present design, as testified by the duke's individual device of the "exploding shell" carved on the capitals of the small loggia. Early in 1478 documents mention a garden of the duchess (Eleonora of Aragon, Ercole I d'Este's wife) in the Castle: reference could be to a small garden located on top of the east revelin until the XV century. Only in the summer of 1531 the crenellated wall surrounding the garden, later collapsed and was reconstructed on several occasions together with the four round-arches loggia were built.
From now onwards archival sources supply lavish indications about the hanging garden in the Castle allowing a survey of its subsequent renovations: from an earliest version including small paths and flower-beds, further embellished by wooden vases containing orange trees "carried upstairs and downstairs" at every change of season, to its XVIII century revision preserving the sole orange trees and then the early XX century pictures still portraying the oranges on the terrace at spring.
PLEASE NOTE: the roof garden is closed in Winter.