The small chamber of Poisons
In January 1926 a competition was held to assign the decorations of the ceiling of this small chamber also known as "of the Quadrifoil" or "of the Balcony".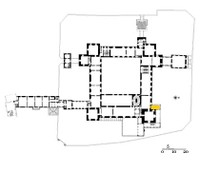 Among the participants, Augusto Pagliarini (Ferrara, 1827-1960, nephew of the XIX century copyist Giovanni Pagliarini) presented arabesque ornamentations and medallions containing portraits of illustrious Ferrarese citizens as well as landscapes inspired to the provincial territories; Piccinini, on the other side, conceived a project that focused on the theme of local land reclamation, whilst Caravita elaborated a sketch featuring Cupid and Psyche set against a grotesque decoration, in perfect keeeping with the pre-existing ornamentation. On 20 February 1926 the representatives of the Provincial Deputation, unsatisfied with the works, urged the painter Carlo Parmeggiani (Ferrara 1881-Tradate, Varese 1967) to return from Milan, where he had long since settled, and present a sketch illustrating an enforced heroic subject exhalting Italian greatness. Carlo Parmeggiani produced watercolours, etchings and woodcuts. He was responsible for the invention and pictorial execution of the decoration of the low-vaulted ceiling in the "Small Chamber of Poisons", finished in 1927. The final result of the iconographic project conceived for this small room, still legible today, functions as the interpretation of the regime's patriotic ideals.
The decoration should be read starting from the allegorical image of the 'divine', represented in the shape of a golden radiating sun dominating the room from the centre of the ceiling. The lower band, decorated on all four sides, shows on the east wall the personification of Italy, holding the lictorian.
The idealised figure of Motherland rises upon a votive altar surrounded by two groups representing Army and Agricolture "armed" with swords, scythes and hoes. On the west, surmounting the quadrifoil window-panes, and east walls, one finds the Colonies, reawakened by the Italian civilization (coloniae ab inertia redemptae) through Industry, whose representatives seize axes, anvil and hammers, Arts and Sciences.
The north wall features the hero of politics, bearing the likeness of the Ferrarese fascist commander who flew across the Atlantic, Italo Balbo, victorious, though humanely respectful of mothers' painful cries over a dead son.