The gallery ante-room
This small room was a part of Ercole II's "Patience Suite".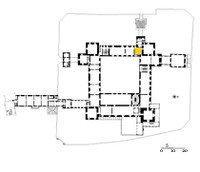 It led to the "Gallery" that Ercole II had had modified beginning in 1554 to house his art collection.
The Gallery was located along the old corridor that connected St. Catherine's and St. Paul's towers. The décor, that dates back to the early 1900's, reminds of the achievements of Este nobles.