The Councils Room
Meetings of the Council of the Province of Ferrara, who is the owner of the Castle since 1874, were held in this room for about eighty years.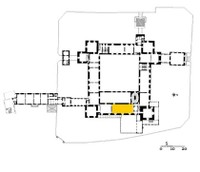 Every trace of the Este period when it was called the "Sala della Credenza", perhaps because it was furnished for holding Ducal dinners and later collections, was lost. In 1919 when the First World War ended, an ambitious restoration project was started that had been under discussion since 1916.
The works included the decoration, furniture and lighting of the Sala del Consiglio.
Up to that point, meetings had been held in the Salone dei Giochi.
The Neo-Baroque decorations that had been fitted only relatively recently were scrapped as the new style had to be more "modern" with an eye to the future.
The interpretation of these new stylistic requirements was placed in the hands of Giovanni Battista Gianotti (1873-1928) and Ettore Zaccari (1877-1922).
The former, who was responsible for the overall design, was the owner of "Officine d'arte" in Milan and Buenos Aires and was a noted painter famed for his work with ceramics, glass, mosaics and items of furniture.
The latter was a noted cabinet-maker of the new "design" school. Two experts in wrought-ironwork accompanied them: Carlo Rizzarda and his partner Benotti. The works they carried out did nothing to diminish their fame.
This room bears witness of developments of the liberty into art déco design that can be seen in the ornate oriental-like painting on the ceilings, in the mirroring of ceramic mosaics featuring the coats of arms of the Comune di Ferrara, in the panel with emblems of poppies waving among the wheat that surround the Province's coat of arms above the president's chair. This same emblem is repeated on one of the six doors, whereas, on the others we find eels amidst waves and seaweed, squirrels on blossoming branches, swallows in vineyards, woodcocks in the marshes and dragonflies and butterflies amidst the corn.
Once there were four wrought-iron appliques pilasters of which now only the fixings remain. They were replaced by more up to date lights.