The camerino of the Bacchanalia
Alfonso II had this Cabinet realised as part of his Appartamento dello Specchio (Mirror Apartment), and with it referred to Alfonso I's more famous Camerini Dorati (Golden Study) which were also to a large extent dedicated to the theme of Bacchanalia.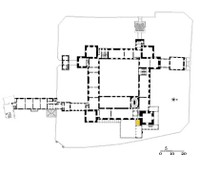 The paintings, realized singularly as frescoes in oil, have been restored several times because they are so delicate.
Leonardo da Brescia may have been responsible for the architectural setting; the picture on the left, the Trionfo di Arianna (Ariadne's Triumph) is attributed to Ludovico Settevecchi, while the picture in the centre, the Vendemmia (Wine Harvest) and the Trionfo di Bacco [The Triumph of Bacchus] are referred to the studio of the Filippi family.