The castle of Saint Michael
On 29 September 1385 the marchese Nicolò II ordered the construction of an impregnable fortress.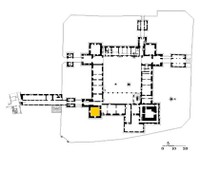 It was St. Michael's Day and therefore the castle was named after the saint. The "inzegnere di corte" Bartolino da Novara, who had already made a reputation as architect of churches and fortifications, designed the Castle of St. Michael starting from a recent defensive nucleus near the Porta dei Leoni (Lions' Gate).
To get an idea of the Castle appearance at the end of the XIV century, one may refer to the present architectural structure of the Castle of St. George, carried out by the same Bartolino for Francesco Gonzaga, lord of Mantua, ten years later. Bartolino's design for the Castle of Ferrara envisaged the construction of three more towers of equal height and divided into three storeys, the Torre di Santa Caterina, the Torre di San Paolo and the Torre Marchesana, creating a four-sided stronghold with the pre-existing watchtower, namely the Torre dei Leoni.
Between the towers large two-storey buildings were added.
The stronghold, internally overlooking a vast courtyard, defied all possible rebellious attempts due to its elevated and complex structure.
A high splayed base rose as far as the stone cordon marking the ground floor, mostly twisted and stud with decorated shields bearing the Este coats-of-arms.
As in the small watchtower, the second floor battlements of the buildings and those on the third floor of the towers were protected by protruding corbels crowned by crenellations according to the most traditional rules of military architecture in vogue during the Middle Ages. The basement, interred near the inner courtyard, was roofed over with low barrel-vaults linking the subterranean rooms in the towers.
The massive and strong brick-wall structure of the basement constituted more of a foundation than an elevation device, intended to sustain the entire bulk of the castle. The ground floor, positioned to a higher level than the courtyard, consisted of a sequel of cross-vaulted rooms. The first floor was mainly composed of spacious crossvaulted corridors connecting the towers. On the second floor, the battlements were terraced and, only at the end of the XV century, sheltered with coverings consisting of wood and bent tiles. Winding staircases, contained within the thick outer walls, allowed transit from one storey to another.
The openings, both in the basement and in the avant-corps and revelins on the first floor, were defensive loopholes. Light entered through small windows into the great halls of the ground and first floors.  
A large moat, which included the older moat previously encircling the Torre dei Leoni and was covered by the structure of the Castle on two sides, surrounded the whole fortress. All entrances were defended by avant-corps set alongside the towers.
A first drawbridge stretched out from the avant-corps to the revelins, small supporting towers built into the moat and linked to the opposite bank by a system of drawbridges.