The Lion's tower
Before 1385, since at least one hundred years, on the site where the Castle of Saint Michael was built, an old watchtower stood to defend the northern line of the city walls and, more exactly, the near strategic gate called of the Lion, beyond which a small homonymous district extended. A large canal, that flew into the river Po with its tributaries, defended the northern stretch of walls.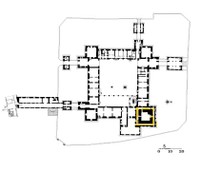 At that period the town had developed alongside the left bank of the main branch of the river, whose course in that point opened eastward to form a vast delta. Water provided places, suburbs and the town itself with the most effective protection.
Not very long before the construction of the Castle, the watchtower underwent a transformation, ordered by Nicolò II and probably carried out by the same Bartolino da Novara, who would both later have been the future patron and architect of the Castle of Saint Michael. Thus, from a high, rectilinear square-planned tower, intended for surveillance and sighting, it turned into a small fort with a much wider base and larger battlements on the first floor, well-equipped according to the latest military defensive techniques.
A ramp, that ran along three sides of the stronghold, allowed access to the battlements and was meant to facilitate transport of weapons, artillery and other such loads with the help of animals.
The vast rooms at the ground and first floors were used as headquarters for the Este soldiery, whereas the prisons were located in the dark basement. The exterior structure of the stronghold looked the same on all four sides.
Each side was punctuated at its centre by three blind arches, marked by protruding lesenes enhancing the four corners of the new tower, reinforced by thicker walls than elsewhere in the rest of the structure, which had the appearance of four small towers.
The exterior walls were covered with plaster and frescoed with simple elementary decorative motifs.
The fort was surrounded by a moat, where a covered wharf was inserted for the boats sailing northbound and connected both to the Lion's Gate and the city walls, on the opposite side.