The ducal kitchens
The large hall of the kitchens was carried out at the beginnings of the Cinquecento on the orders of Alfonso I, resulting from the extension of the eastern demilune that used the foundations of the demolished Lion's Gate.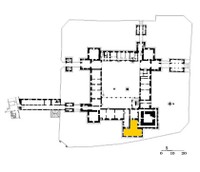 To this period dates the whitewash rendering on the vault, probably applied as the base for a fresco that was never executed.
On the equally original floor it is possible to see the marks left by the drains for the ancient sinks. The north wall of the room was covered by a fireplace which once stretched its whole width, as confirmed by the two square windows that served as air intakes.  
Especially when the celebrated banquets held at court were laid on - which did not happen infrequently.
On these occasions a wealth of amazing courses were alternated by theatrical entertainments and musical performances.
Choreography and food featured as fundamental ingredients of those great ceremonies, upon which the lord relied for the demonstration and self-aggradizement of his standing.
This accounts for the high esteem devoted to these great ceremonial cooks called "scalchi" throughout the courts of Europe.
One name has been handed down to posterity: that of Cristoforo di Messisbugo, the grand choreographer of sumptuous banquets and feasts conceived as a «princely feast, entirely made of shadow, dream, chimaera, phantasy, metaphor and cheerfulness».