The fortress
It was 29th September 1385 when Marquis Nicolò II gave permission to proceed for the construction of a mighty fortress commissioning the court engineer, Bartolino da Novara, with the work. It was St Michael's Day and the future castle was dedicated to the archangel.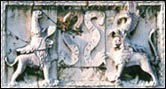 An old watchtower had previously stood on the site and for at least a hundred years had defended the walls to the north of the city and especially the nearby and important Porta del Leone (Lion's Gateway) beyond which was a small suburb that bore the same name (Borgo del Leone).
The Marquis purchased the land which separated his family palace from the northern walls of the city and therefore from the Rocca and from the Porta del Leone. Here lay the small district of San Giuliano, based around the small church that bore the same name.
The early decades in the life of the fortress saw it as the seat of the faithful Estense militia. Next to the soldiers' and servants' quarters, we find, in the most classical and traditional formula of organisation of buildings of this type, stables, armouries, store-rooms, workshops for producing arms and everyday pottery, laundry rooms, workshops for producing candles and soap and whatever else the small army and the lords of the adjoining palace needed.
It should be noted that the Este family made use of the castle in another way, for which it showed itself to be particularly secure. Within its walls were kept special prisoners. They were certainly not ordinary prisoners, who were kept in the cells of the courthouse in the city's central square, but those who were guilty of crimes against the house of Este, of attacks on the power of the Duke or of family plots and betrayals.