Restoration work until 2003
The 1980s saw the beginning of a cycle of restoration works that modified the wings which were gradually freed from being store rooms and offices so that they could be included in a system which catered for access, visits by the public and readiness for temporary public and private events.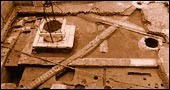 The underground floors, the Gothic wings of the ground floor, the ex-kitchens, the Torre dei Leoni (Lions' Tower), the Appartamento dello Specchio (Mirror Apartment), now joined together in one evocative atmosphere and renewed through their faithful reconstruction are now showing their valuable historical and educational content more and more.
They have been joined up since 1998, the year the first part of the museum-type arrangement was opened, in a vast route with services that will be extended between 2001 and 2003 to cover the entire first floor of the castle.